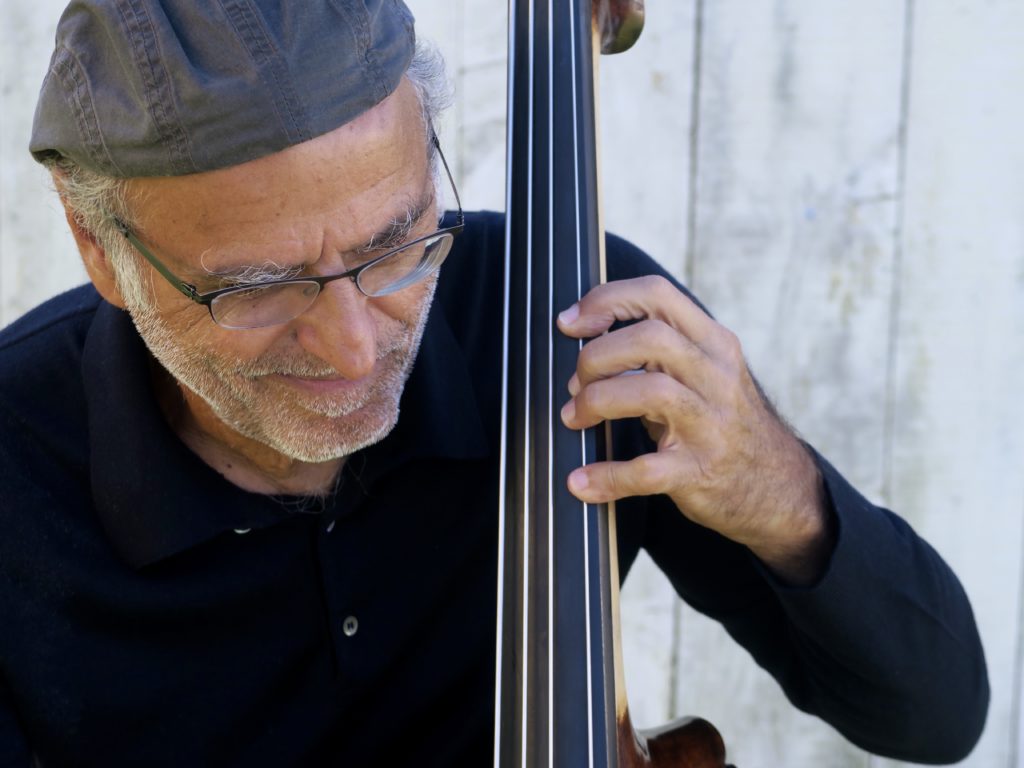 On the European jazz scene, Michel Benita is neither the most vehement nor the most intrusive double bass player around. Some speak of honesty in his consideration for others. His path, attachments, partners reveal a musician of commitment and fidelity, curiosity and enthusiasm. Living in Paris in the early 1980s, he did everything he could to catch up, and he multiplied his experiences and dragged his instrument around to all those who called on his services. The names of the jazzmen with whom he played in those early years would compile a Who's Who of jazzmen who played in France, where expatriate American legends (Lee Konitz, Archie Shepp…) played side by side with sure European values (Daniel Humair, Bobo Stenson, Enrico Pieranunzi…), and where his future friends of always (Peter Erskine, Aldo Romano, Nguyên Lê…) played in one-night stands with musicians just passing through.
A tough school but a good one, traveling from club to club and on the road, a school that freed Michel's fingers from the constraints of technique and earned him the reputation of one of the most promising bass players around. So he was naturally asked to play in the first Orchestre National de Jazz which, under the direction of François Jeanneau, brought together the cream of a new generation of French musicians in 1986.Other friendships dating back to this time have never stopped producing beautiful music: the Italian pianist Rita Marcotulli, whom Michel met in 1987 and whom he asked to participate in his first quartet alongside Dewey Redman, a little known giant and long time companion of Ornette Coleman (two albums for Label Bleu); Aldo Romano, the drummer, with whom he has worked in privileged tandem since 1995, including in the group Palatino with Paolo Fresu and Glenn Ferris, which is certainly not the least interesting of his encounters (three records so far)…
Marc Ducret, first as part of a trio revealing the guitarist's talent, and then as part of Seven Songs From The Sixties, a mythical "tentet" ; the drummer Peter Erskine, with whom he formed the ELB trio along with Nguyen Lê, who had just before invited Michel to help him tell his Tales From Vietnam (ACT).
To whatever combo he plays in, Michel Benita brings a rich, sure and melodious sonority, which is as much indebted to Scott LaFaro for its finesse as to Charlie Haden for its virtues of simplicity, without forgetting the steadiness of a Dave Holland who pairs up with the most complex drummers around, and the expressive cantabile of Nordic bass players such as Arild Andersen, Palle Danielsson and Anders Jormin.
In 2001, he joins Erik Truffaz's Ladyland combo (Mantis, Blue Note). Then, forming a new trio with sax player Gaël Horellou and drummer Philippe Garcia, two younger musicians (Cosmik Connection), he finds the time to write the music for several documentaries. Michel now has his ears attuned to experimentation and cross disciplines, which he has explored since 1996 as the beloved composer of Hilton McConnico, decorator, photographer, designer, and also scenographer of Hermès, for whom he has already composed the music for 5 exhibitions or fashion shows in France and Japan. As Michel commences his fifth decade, his career takes another decisive turn with an electronic project, Drastic, with a new album, which makes him shiver with excitement in the act of creation and in reaching new audiences.
In 2010, the album 'Ethics', brings a new dimension to his music, with the use of the japanese koto, beautifully played by Mieko Miyazaki, a very eclectic and charismatic musician from Tokyo. Matthieu Michel, from Switzerland, plays his dreamy lines on trumpet and Philippe Garcia, his pal from the Truffaz years is on the drums and electronics. Eivind Aarset, from Norway, on guitar and laptop, adds a very special ambient touch to the ten compositions Michel wrote for this band.
In 2012, two major albums. First a live double CD by Palatino (Romano, Ferris, Fresu, Benita), a collective band reunited for a one shot concert in Grenoble's MC2 (Naïve). Then his first recording produced by Manfred Eicher on ECM, as a member of Trio Libero, formed by english saxophonist Andy Sheppard with Seb Rochford on drums.
During the years 2013-2014, he's touring with accordion player Vincent Peirani and pianist Michaël Wollny ("Thrill Box", ACT). Then records a new album for ECM with Andy Sheppard, as part of his new quartet, featuring Eivind Aarset and Sebastian Rochford.
2015 : First album with the Ethics Band on ECM. The acute sound-pictures of "River Silver" were realized in the responsive acoustics of the Auditorio Stelio Molo RSI, Lugano in April 2015, with Manfred Eicher producing. The album is Benita's third ECM appearance, following two discs with Andy Sheppard: "Trio Libero" and "Surrounded By Sea". All three albums have been Lugano recordings, the studio's recital room ambience encouraging detailed interaction.
2018 : Third album on ECM as a member of Andy Sheppard's quartet, "Romaria". The album is Benita's fourth ECM appearance.
2020 : Second ECM album as a leader, "Looking At Sounds". Along with Matthieu Michel and Philippe Garcia, his pals from the Ethics band, the quartet includes Belgian pianist Jozef Dumoulin, playing Fender Rhodes with FX. The album was recorded in la Buissonne (FR) in 2019 and produced by Steve Lake. Release September 18, 2020.
Awarded Officer of the Order of Arts and Letters in 2015.